2023 AAA & AA TRYOUTS!!
---
---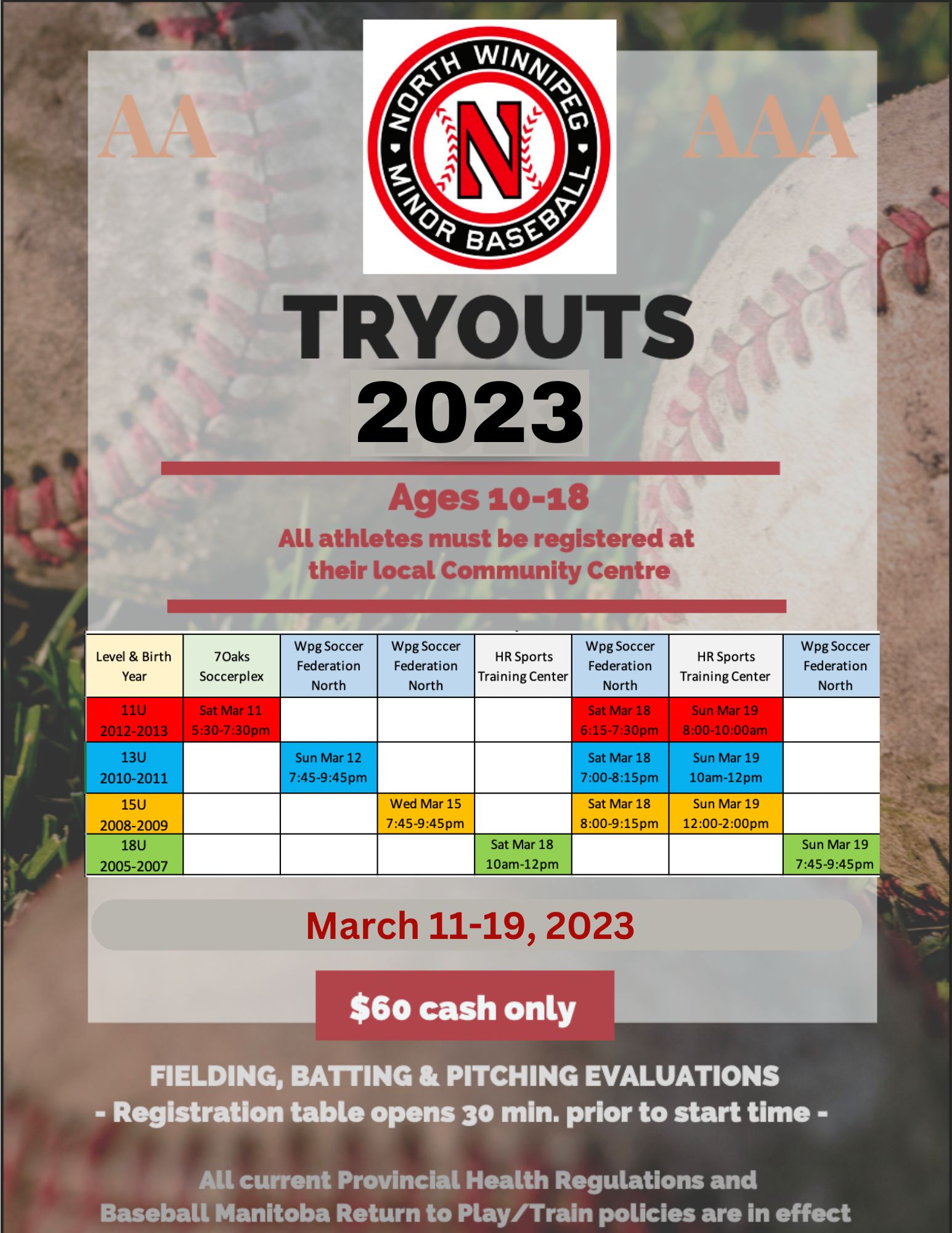 ---
Tryout Information:
Glove, Bat, Athletic Support, Ball Hat, Batting Helmet, Cleats/Turfs/Runners, Water
ALL players must participate in ALL evaluations in order to be placed on team.
Players not selected for the team that they are trying out for (AAA or AA), will automatically be considered for the next lowest level (AA or A). Athletes must be registered with their local Community Centre prior to tryouts.
ATHLETES IN GOOD FINANCIAL STANDING: IN ADDITION TO THE ATHLETIC COMMITMENT INVOLVED WITH PLAYING FOR A NORTH WINNIPEG MINOR BASEBALL TEAM, THERE IS ALSO A FINANCIAL COMPONENT THAT REQUIRES SIMILAR COMMITMENT. THE NECESSITY OF THE 2 DIFFERENT COMMITMENTS CAN ALLOW NWMBA TO PROVIDE A PROSPEROUS AND GROWING BASEBALL ENVIRONMENT WHERE TEAMS CAN SUCCEED.
ANY ATHLETES TRYING OUT FOR THE 2023 SEASON, AND FOUND TO BE IN FINANCIAL ARREARS WITH THEIR COMMUNITY CENTRE OR NWMBA, WILL NOT BE PLACED ON A 2023 TEAM UNTIL ARRRANGEMENT FOR PAYMENT OF OWED IS ARRANGED AND CONFIRMED. THIS IS ESSENTIAL FOR THE EQUITY BASED PROGRAMS THAT NWMBA STRIVES TO PROVIDE.
PHOTO RELEASE CONSENT: BY ENROLLING YOUR ATHLETE IN NORTH WINNIPEG BASEBALL ASSOCIATION (NWMBA) PROGRAMS (CAMPS, TRYOUTS, SEASON PLAY, ETC), YOU ARE GRANTING PERMISSION TO NWMBA TO USE ANY PHOTOGRAPHS TAKEN BY A NWMBA MEMBER OR DESIGNATE TO REPRESENT AND PROMOTE NWMBA EVENTS AND SUCCESSES ON NWMBA WEBSITE AND NWMBA SOCIAL MEDIA PLATFORMS ONLY. YOU ACKNOWLEDGE THAT NWMBA HAS RIGHT TO FORMAT OR ALTER THE PHOTOGRAPH AT ITS DISCRETION. YOU ALSO ACKNOWLEDGE THAT NWMBA MAY CHOOSE NOT TO USE A PHOTOGRAPH AT THIS TIME, BUT MAY DO SO, AT ITS OWN DISCRETION, AT A LATER DATE.
PLEASE NOTE THAT NO SPECTATORS ARE ALLOWED IN TRYOUT AREAS AT LEILA NORTH COMPLEX.
PLEASE NOTE THAT NO SPECTATORS ARE ALLOWED IN HOME RUN TRAINING FACILITY DUE TO SPACE LIMITATIONS.